PMG Karting World: The Best Place for Kids' Birthday Parties in Walsall
Why not host your birthday party with us?
Looking for an exciting and stress-free way to celebrate your child's birthday?
Look no further than PMG Karting World! Our kids' party packages are designed to take the hassle out of party planning while providing an unforgettable racing experience for all.
Safety First with Full Briefing
We take safety seriously at PMG Karting World. That's why our party packages include a full in-depth safety briefing to ensure that drivers of all ages stay safe while having fun.
Race-wear and Equipment Provided
Race like a pro with our high-quality race-wear and equipment, provided with every party package. Plus, gloves and balaclavas are included, usually £5 for the pair.
Exciting Racing Sessions
Our party packages include two 15-minute racing sessions for all drivers, ensuring that everyone has plenty of time to experience the thrill of racing on our track. Plus, with six karts on track per session, there's plenty of room for everyone to race and compete.
Podium Pictures and Fun Memories
Capture memories that will last a lifetime with podium pictures for the top 3 drivers and the entire party. Plus, with our exciting racing sessions, your child and their friends will have plenty of fun memories to cherish for years to come.
Book Your Party Package Today
Ready to book your child's next birthday party at PMG Karting World? Contact us today to learn more about our party packages and to start planning an unforgettable racing adventure for your child and their friends.
Don't miss out on the fun
Book your party package today and give your child the ultimate racing experience in Walsall!
Drive your kids' birthday party to the next level with PMG Karting World!
Our birthday party packages offer the ultimate adrenaline-fueled experience for young racers. Take the stress out of planning your next party and choose from our two amazing packages.
Basic Package
The perfect option for those looking for an exciting and fun-filled party. For just £40 per person, you can enjoy a range of perks!
including:
a full safety briefing
racewear
gloves and balaclavas
two 15-minute sessions for all drivers
podium pictures for the top three drivers
six karts on track per session.
Upgrade to the Ultimate Package
Our Ultimate Package is the way to go. For just an additional £10 per person, you'll get access to helmet cameras for all drivers to record racing footage, a kid's meal from our menu, medals for all drivers, and use of game machines throughout the event.
With this package, your party will be taken to the next level!
All of this comes at just an additional £10 per person.
No matter which package you choose, our team is dedicated to ensuring your child's birthday is unforgettable. Book now and give your child the ultimate birthday party at PMG Karting World!
The birthday celebrations don't have to stop here! Give the ultimate gift to your Karting fan with the vouchers available on our booking site! Let the good times roll on!
Make your special event memorable – explore our range of events beyond birthday parties! Visit our events page for more info!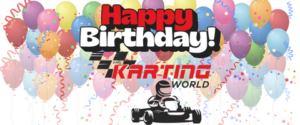 'It was a pleasure to host a fantastic corporate event held at PMG Karting World last week for some of our buyers. An absolutely amazing track and facilities. Roll on the next one!' – Manheim Birmingham
'PMG Karting World ran 2 events for me over the last couple of weeks for 40 drivers at each one with personalised groups and heats. Everyone had a great time. There was some close racing, the layout meant everyone could watch the on track action and the facilities are amazing. I highly recommend PMG Karting World.'
'PMG Karting hosted my son's 9th birthday party and it was FANTASTIC! The kids had such a brilliant time and it was certainly a birthday party to remember. The staff were very attentive – nothing was too much trouble – and so a big thank you to everyone involved from the booking to hosting. '